Individuals with eating disorders and the use of online support groups as a form of social support
Abby McCormack1, Neil S. Coulson2
1, 2University of Nottingham, UK
ABSTRACT
The increase in Internet use in recent years has fostered the development of online support groups to help individuals cope with a range of conditions The aim of this study was to examine the nature and types of social support that was exchanged between participants of an online anorexia discussion forum. A deductive thematic analysis of 325 messages posted to a bulletin board suggested that one of the primary functions of the group was the communication of encouragement and esteem, and information support notably in terms of diagnosis, treatment and interaction with health care specialists. Considering the high rate of relapse among individuals with eating disorders it is imperative that some form of support is available when they leave treatment centres. Computer-mediated support groups provide a low cost, easily accessible self-help service to individuals with eating disorders and may provide an important venue through which information, advice and support can be offered and received.
Keywords: eating disorder, internet, social support
INTRODUCTION
Background
Social support refers to a social networks provision of psychological and material resources intended to benefit an individual's ability to cope with stress (Cohen, 2004). It can improve an individuals coping by affecting how stressful events are appraised and help the person deal with the emotional consequences of stress. Support groups enable participants to help each other cope with shared problems. They offer a supplemental form of interpersonal assistance to its members and the support group can be used as an adjunct to, or as an alternative to professional treatment (Winzelberg, 1997). The benefits of support groups include coping with disease, obtaining specialist knowledge and improving personal relationships (Trojan, 1989).
Computer-mediated support groups
The advent of online communications and the rapid spread of Internet access have given rise to both self-directed as well as professionally led support groups for a variety of health problems (Lieberman & Goldstein, 2005). Computer-mediated support groups offer a space for recognition, and a social level for sharing knowledge and experience, as well as providing a sense of belonging (Hoybye, Johansen & Tjornhoj-Thomsen, 2005; Finn, 1995). Many people are now accessing computer-mediated support groups to deal with a variety of conditions including cancer (Lieberman & Goldstein, 2005; Sullivan, 2003; Klemm, Reppert, & Visich, 1998), eating disorders (Winzelberg, 1997; Walstrom, 2000), sexual abuse (Finn & Lavitt, 1994) irritable bowel syndrome (Coulson, 2005) diabetes (Loader, Muncer, Burrows, Pleace, & Nettleton, 2002), teenagers with cystic fibrosis (Johnson, Ravert, & Everton, 2001), as well as carers of Alzheimer patients (White & Dorman, 2000) and parents of children with cancer (Han & Belcher, 2001).
Even when patients are well informed about their medical condition, most need the reassurance of talking to others who have been in similar situations, who can provide emotional and social support when things are not going well (Alemi, Mosavel, Stephens, Ghadiri, Krishnaswamy, & Thakkar, 1996). The emergence of self-help groups offer patients an alternative source of social support and knowledge (Kelleher, 1994). Many of the therapeutic elements of face-to-face groups, such as support, information, problem solving, diminishment of shame and guilt are present in the electronic medium and for many members, computer-mediated support groups provide satisfying and long term support (Finn & Lavitt, 1994). Furthermore, Internet administered self-help programs can be just as effective as face-to-face therapy (Carlbring, Nilsson, Waara, Kollenstam, Burhman, Kaldo, Soderberg, Ekselius, & Andersson, 2005) and research has shown that patients were more likely to participate in electronic meetings than in face-to-face meetings (Alemi et al., 1996).
Advantages of computer-mediated support groups
A number of characteristics unique to computer-mediated support groups may account for their rise in popularity. For example, those who have easy access to the internet can access support groups 24/7 at a time that is convenient to them without having to consider issues of travel time, work or family commitments. They are not confined to a limited period of time as they would be with face-to-face therapy. Furthermore, only a small proportion of people who face a crisis choose to participate in support groups (Weinberg, Schmale, Uken, & Wessel, 1995). This could be due to practical problems such as lack of transport to and from the group or unease in formal group meetings. Therefore computer-mediated support groups have the potential to serve clients who are unable or unwilling to participate in traditional face-to-face support groups (Weinberg et al., 1995) and offer members greater access to and increased sources of support (Klemm et al., 1998). In particular, people with stigmatising disorders or wishing to discuss sensitive or 'taboo' issues may find computer-mediated support groups more welcoming because of the anonymity they provide (Buchanan & Coulson, 2007). They may also facilitate access to a more heterogeneous mix of people in terms of views, opinions and experiences (Coulson, 2005) due to the unlimited number of participants and coverage across the globe. Moreover, the pressure for immediate response is reduced, allowing members to post a comment if and when they want to, as well as providing an option for people who are uncomfortable in group situations (Weinberg et al., 1995). Furthermore, reluctant or shy members can gain support by 'lurking' (reading messages without responding) until they feel comfortable with the group norms and can directly request and provide support (Winzelberg, 1997).
Disadvantages of computer-mediated support groups
However, computer-mediated support groups are not without their potential problems. Although they are a cost effective way to send messages to a potentially large number of people, it requires that the individual has access to a computer and the Internet, and knowledge of how to read, write and use a computer (White, & Dorman, 2001). Also there is little control over who may participate in the group since anyone with access to the Internet can potentially participate and post messages. This leads to the possibility of members acting on inaccurate and dangerous information (Coulson, 2005) and messages may be easily misinterpreted due to the absence of visual and aural cues.
The role of computer-mediated support groups in coping with eating disorders
The growing incidence of eating disorders suggests that the pursuit of thinness is a growing social problem and public health threat (UNC Health Care, n.d.). Indeed, eating disorders can pose serious health risks and may result in osteoporsis and even death for about 6% of those who have the disorder (Crow, Praus, & Thuras, 1999). Treatment of eating disorders typically involves emotional, financial and time commitments from clients, staff and the health care system. When discharged, most patients have made substantial improvements. However, maintaining these changes when intensive support is no longer available represents a significant challenge. As therapeutic expertise is not always available and finances for medical care are constrained, the use of the internet in medical therapy may usefully expand to meet those needs (Goldstein, 2005). Indeed, given the high relapse rates reported for eating disorders (Walstrom, 2000), it is important that some form of support is available when patients leave treatment centres or therapy and the computer-mediated support group may be once such option.
Whilst face-to-face support groups are commonly used by women with eating disorders (Baskind-White & White, 2000) and have been found to be beneficial (Finn & Lavitt, 1994), there is a urgent need to explore the potential therapeutic benefit of computer-mediated support groups, especially in light of the aforementioned high relapse rates. Computer-mediated support groups for individuals with eating disorders may be particularly attractive given the absence of physical appearance and this is something which has been shown to enhance group participation (Dubrovsky, Kiesler, & Sethna, 1991). Furthermore, there is evidence to suggest that an Internet delivered computer-mediated health education programmes can improve women's body satisfaction, a potential risk factor in the development of eating disorders (Winzelberg, Eppstein, Eldredge, Wilfley, Dasmahapatra, Dev, & Taylor, 2000) and therefore the internet may be a potential tool for the treatment of eating disorders. An internet health education programme designed to improve body satisfaction and reduce weight and shape concerns was found to significantly improve body image among the women trained in using the internet programme (Winzelberg et al., 2000). This finding provides some support that the internet might be of benefit as an adjunct to counselling. In addition, Yager (2001) found that the Internet could be used to treat anorexia nervosa by sending regular e-mails in conjunction with a treatment plan which benefited the patients and provided them with the ability to contact their therapist at a time convenient to them. Brown, Winzelberg, Abascal, & Taylor (2004) also evaluated an Internet-delivered eating disorder prevention programme and found that students had significantly reduced eating constraint and greater increases in knowledge, and parents significantly decreased their overall attitude towards weight and shape.
Aims of the research
It would appear that the Internet and in particular computer-mediated support groups may be a potential source of support for individuals living with an eating disorder. However, there is as yet, little empirical research which has explored how computer-mediated support groups may function and how support may be exchanged between individuals who choose to access them. Whilst there is a growing body of literature which has explored the content of such online communication for other illnesses (e.g. Coulson, Buchanan & Aubeeluck, 2007), there has been little attention paid to eating disorders. Understanding the nature of the communication which takes place between group participants may yield important insights into the support needs of those living with an eating disorder as well as offering insights into the potential role of computer-mediated support groups in addressing those needs. This study will therefore undertake a content analysis of the messages exchanged within a computer-mediated eating disorders support group using a social support coding framework derived from other work in this field.
METHOD
Data collection
A search of the Internet was undertaken to identify online support groups for individuals living with an eating disorder. This was achieved by using the search engine Google and the query 'online support groups and eating disorders'. Whilst a number of groups were identified, we selected the first group which fulfilled the following criteria: a] messages posted to the bulletin board could be accessed without having to join the group; b] the group was sufficiently active in terms of the number of members (i.e. at least 50) and messages posted (i.e. at least 200).
The identified online support group included a number of bulletin boards which focused on different types of eating disorders. In this study, the 'anorexia' bulletin board was selected for analysis. The aim of this specific board was to facilitate discussion, share experiences and provide information, advice and support for anyone affected by anorexia and no geographical restrictions were evident, therefore the potential access was worldwide.
Whilst no formal guidelines exist with regards the number of messages which should be included in a content analysis of this nature, our strategy was to download a sufficient number of messages until theme saturation occurred. In this case, a total of 325 messages derived from the 37 most recent conversational threads were downloaded and selected for anlaysis (during a 17 day period covering May/June 2007). This number is in line with other studies of online discussion forum communication which have used content analysis (e.g. Winzelberg, 1997; Klemm et al., 1998). Messages identified the sender's username, the date and time of message and the text itself. Messages were usually replies to previous postings and are available for the public to read.
Participants
The sample included all individuals who posted messages to the anorexia bulletin board on a computer-mediated eating disorders support group during the study period. Individuals remain anonymous when they post messages. Socio-demographic information such as age, gender, location, was only available if the individuals chose to disclose such information. A total of 95 unique sender names were identified. Members posted from all over the world, with several European countries, North American countries and Australia represented. Whilst few participants disclosed their age, the majority of participants appeared to be female (we estimate in excess of 90%).
Procedure
An extensive search was carried out on the internet to find a suitable eating disorders compute-mediated support group. Many were disregarded as they required membership to post and read messages on the bulletin board. Others were disregarded as they specifically requested that messages posted were not to be used in any form of research. An eating disorders support group that required membership to post messages but did not require membership to read the messages was used.
A deductive thematic analysis of messages posted on the 'anorexia' discussion forum was undertaken to: 1) identify the frequency of the types of support, 2) identify how each type of support was used 3) determine how many members posted messages, and 4) how often they posted messages. Messages were coded for any type of category that was included in the content of the message, thus more than one category could be present in one message. A coding manual, based on previous research, was devised consisting of 10 categories of support. Klemm et al. (1998) and Coulson (2005) both used information support in their coding manuals. However, 'personal experience', 'personal opinion', 'prayer', 'thanks', 'encouragement' and 'miscellaneous' were taken from Klemm et al. (1998) and 'network', 'emotional expression' and 'esteem' were taken from Coulson (2005). 'Esteem' support was added to 'encouragement in the present study'. Klemm et al. (1998) also used a category of 'humour' but for the present study expression of humour was not very common and this was changed to 'poetry and quotes'.
All messages were categorised according to the following 10 subject areas:
Information giving / information seeking (questions about diagnosis, symptom interpretation, illness management and treatment. Individuals may also refer others to experts).
Encouragement and esteem (expressions of understanding, compassion and empathy towards others. May include good luck messages. Esteem support refers to compliments and praise for the individual).
Personal experience (can include experiences about treatment, recovery, and consequences of the illness they may have had in the past and present).
Personal opinion (individuals own personal belief statements including coping with anorexia, what help to get and suggestions).
Prayer (statements related to spiritual intervention or reference to religion. It may also include quotes from the bible).
Network (welcoming new members, leaving email addresses for further communication and requests to chat online).
Thanks (in response to requests for information, responding and listening).
Poetry and quotes (stories, personal anecdotes, poetry, lyrics or quotes).
Emotional expression (express any emotions they may be experiencing including both positive and negative emotions).
Miscellaneous (other topics).
Once the coding manual was devised, two raters met to talk about the coding manual to ensure that when the messages were coded, there would be agreement between the raters. Following the independent rating of the messages, the raters met to categorise postings on which they had previously disagreed. Most messages were coded similarly but there was some confusion between instances of 'emotional expression' and 'encouragement and esteem'. The category of 'emotional expression' was adapted slightly to include only instances of members expressing their emotions. These revised codings were used in all analyses. One rater coded all 325 messages while the other rater coded approximately one third of the messages. To assess the agreement between the raters, Cohen's kappas were calculated. The Cohen's kappa results indicate a high level of inter-rater reliability, (table 1).
Table 1 Cohen's Kappa for each category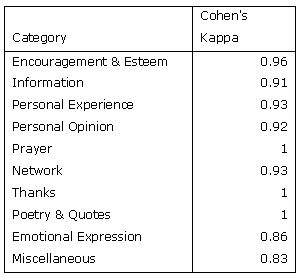 Ethical considerations
There is much debate about whether informed consent is required from individuals posting messages on computer-mediated support groups. Ethical issues arise if vulnerable people share their feelings in computer-mediated groups without realising that their words may be used by researchers (Sharf, 1999). A number of ethical issues were considered including protection of participants, anonymity and confidentiality. It can be argued that the need for informed consent is based on whether the messages posted to an online support group are 'private' or 'public' communications (Eysenbach & Till, 2001). In order to make this assessment, a number of factors can be considered. For example, the number of users of a community can also determine how public a community. In addition, where it is possible to read messages without having to join the online support group, this could be taken as evidence that the group is more 'public'. In the present study, an online support group was selected where there was a large number of group members (200+) and where no form of registration was required to view messages. Finally, in the reporting of the data, no personally identifiable information would be included.
RESULTS
A total of 95 members posted 325 messages. The mean number of postings per individual was 3.4 (range 1 - 23). Age, ethnicity, location and educational levels of the participants were unknown, although the content of the messages suggested that the age range varied from teenagers to those in their forties. It is likely that all members were female since there was a discussion forum specifically for males with eating disorders on the same website, although males may have posted and not disclosed their gender.
The initial deductive analysis indicates that individuals with anorexia participate in computer-mediated support groups for a number of reasons. The majority of messages contained more than one category. As table 2 shows, encouragement and esteem, information and personal experience were the most commonly occurring themes in the messages, closely followed by emotional expression. Prayer was the least occurring theme besides miscellaneous topics.
The majority of members posted only 1 or 2 messages (62.1%), accounting for 24.3% of the messages posted. Six members (6.3%) posted more than 10 messages. This group accounted for 29.2% of the postings. Messages ranged from 8 words to 1,264 words. The average length of a message was 180 words.
Table 2 Categories of social support within messages by percentage
Information support
Information support was the second most commonly occurring theme in the messages. Requests for information often received multiple responses, accounting for the larger number of information-giving postings. Members often provided factual or technical information in response to queries from other members and these appeared to fulfil an educational role. Factual information regarding specialists, medical tests, diagnosis criteria and symptoms such as amenorrhea and dehydration were provided. In response to a member asking what a psychologist can do to help, one member posted:
"A psychologist can help you explore and find ways of coping in a healthier fashion and to get to the REAL reason that you feel like you need this".
Medical definitions were also occasionally posted. One member posted the definition of amenorrhea as it was discussed in one of the threads. Additionally, a number of members sought information on a variety of topics including medical tests, how to eat properly, how to battle the disorder, fear of recovery and medical information. Information about treatment centres was requested on many occasions:
"What in patient (IP) places have you been already and were they any good?"
Referrals to experts often included directing an individual to a specific treatment centre, recommending they seek help from a doctor, nutritionist or therapist, and information regarding a textbook or website which they found helpful. A moderator also closed a discussion thread as it was becoming too medical and suggested that people refer to their doctor. This could prevent members acting on inaccurate information. Some members also left a website address as a signature mark so every time they posted a message the website address would appear. Other members recommended books to help with recovery. Members also suggested seeing a specialist to help with the disorder and provided information about how theses specialists would help them. Situation appraisals typically helped individuals to reassess or redefine the situation in a way which helped a positive consequence to emerge. For example one member was talking about how she did not want to go in patient and this resulted in the following post:
"Why is IP such a bad thing, hun? It sounds like you are a very good candidate for it. IP could help you not feel so scared in life".
The individual is suggesting that going in patient could have a beneficial effect on her life. Many members also asked rhetorical questions to get individuals to think about their situation and try to look at things in a more positive light.
Encouragement and Esteem support
This category appeared most often with more than half of the messages containing expressions of encouragement and esteem support. Messages of encouragement included expressions of good luck or best wishes, expressions of sorrow and empathy, and understanding and compassion towards others. There were many messages encouraging others to keep trying to get better and reassuring them that they were doing well:
"It sounds like you are trying to move in the right direction…keep up the good work and keep listening to your doctor."
A lot of members also expressed empathy and many members acknowledged feelings of others and expressed understanding:
"I totally understand your feelings…I feel your pain and I'm so sorry that happened to you."
These messages of understanding were also a way for members to encourage others to keep trying. Requesting encouragement was also evident in this category. Members frequently asked whether others could understand what they were going through.
Esteem support allowed members to offer compliments praising individuals and to comment on their abilities and attributes. Members used words such as 'proud', 'courage' 'excellent', 'inspiration', 'wonderful', 'strong', 'brilliant' and 'fantastic'. Esteem support can be illustrated in response to a message commenting on the difficulties of sticking to a meal plan:
"You are doing wonderful being able to follow your dietician's meal plan. That is the first and most important foundation for recovery. You are so strong."
Praising individuals were reflected in messages such as: "I am so proud of you for choosing recovery" as well as commenting on their attributes: "You sound very caring, and intelligent, and insightful."
Personal Experience
This category appeared in over a third of the messages. Members shared their personal experiences on the disorder and its symptoms, treatment, relationships with family and friends, and methods of coping. Often new member's introduced themselves with a brief description of their particular situation:
"I restrict and have done so on and off for a year now and I have lost quite a lot of weight…I'm not bulimic as I don't purge so I have another ED…I have never really told anyone and I am not in therapy."
Members also offered updates if they had not posted for awhile or had been a way for a period of time. Personal experiences also included treatment they may have had:
"Speaking from my own experience…three sessions isn't enough for therapy to work".
Members who had recovered, were going through recovery or had not yet started recovery, all posted about their personal experiences. Those who had recovered often posted about how horrible there experience with anorexia was in the hope that it would inspire others to seek treatment before they got much worse:
"As a recovering anorexic, I know that I actually didn't have much choice. I couldn't eat. If I did, my life became a temporary hell. I did not have the control I thought I had."
One member posted how serious the disorder became for her, reporting that she almost died from dehydration (purging and restricting fluids). Messages like these were intended to warn others how dangerous the disorder is.
Personal Opinion
Members expressed opinions on a wide variety of subjects including anorexia diagnosis and symptoms, menstruation, eating behaviours, treatment centres, specialists, family life and reactions of others. Occasionally, members offered their own interpretations of another member's situation. A lot of personal opinions were about specialists and seeking help:
"If your doctors suggesting in patient I would think it's a good idea."
Guidance for coping with anorexia was frequently offered to the group with members posting their own personal suggestions for recovery. One member suggested writing a pros and cons list for recovering from anorexia. Opinions were also directed at getting individuals to seek help:
"I don't think a week would make any bit of difference…Just do it…just go check in tomorrow…"
Members also gave their personal opinions regarding treatment centres they had been to or heard of:
"I think Remuda has just gotten its name from so much publicity, don't really think it is one of the best out there."
Another member disagreed with this and thought that Remuda was "the best one of them all". This category provides an opportunity for individuals to make up their own opinion after taking into account other members personal opinions and experiences.
Prayer
There were few instances of prayer. Most of these involved signature marks of quotes from the bible. For example:
"For I know the plans I have for you says the LORD, plans to prosper you and not to harm you, plans to give you a hope and a future."
This quote was left as a signature mark by one of the members and therefore every time the member posted a message it would appear. In total, 80% of prayer messages were signature marks. There were also some instances of 'God bless you' but there were no instances of members offering to pray for others or talking about their use of prayer.
Network
New members were welcomed to the group and often invited to vent their feelings:
"Welcome to the boards, and I'm glad you came on here. I hope you find the support you need'.
Members were often reminded that there was always someone there to listen and network support also allowed members to show they cared about the well being of others by posting messages such as "keep us posted."
Members left information for other members to contact them via other means such as by email or on other websites. Six members left their email address or other websites as a signature mark and this accounted for 18.8% of the total network messages. This form of support allows other members to feel free to contact them at any time when they may need help or encouragement. At other times, members posted messages to see if anyone was available at that time to talk to them. For example, one member posted:
"Anyone have AIM and available to chat right now? Post back with your screen name or IM me at…"
Leaving messages was a way of keeping in touch and forming bonds with others. Often, members would apologise for not posting in a while or write a message to keep everyone updated.
"Sometimes it's hard for me to come here, I'm sure you all know what I mean by that…but I figured I would drop in at least to let anyone who noticed I haven't been posting that things are going well".
Thanks
There were numerous instances in which group members expressed thanks and appreciation to others. These included thanks for listening, caring, support, reading, encouragement, information, opinions and thanks for replying. Members also thanked others for letting them rant and having the opportunity to vent their feelings. This category of support allowed members to show their appreciation to others for reading and replying to their posts. One member posted:
"Thank you for replying to my post and for being around when I needed some advice and someone to listen".
Expressions of thanks were also given in advance for reading and answering their questions;
"Thanks to anyone who either reads or answers me".
Expressions of thanks were directed to the group in general; "Thank you all so much!" as well as to particular members "Thanks Siobhan you're a love!" Members could therefore form bonds with other members and express their appreciation for their support directly.
Poetry & Quotes
Some members contributed favourite poems and quotes about feelings of despair, sadness as well as hope and determination, all of which struck notes of recognition and identification with other members. Quotes were by politicians, pop stars, actors and others they may admire. These quotes often contained messages of encouragement and support. For example:
"You gain STRENGTH, COURAGE, and CONFIDENCE by every experience in which you really stop to look fear in the face –YOU MUST DO the thing which you think you cannot do' Eleanor Roosevelt".
One member posted the lyrics to a song she felt was about anorexia. The member may have identified with the lyrics and felt they could help others cope with the disorder.
Emotional expression
Emotional expression also appeared in over a third of the messages. This category allowed members to express their emotions regarding food, treatment, the disorder, their family and friends, specialists, their appearance and recovery. Many emotions were expressed with the majority negative emotions, including feeling 'depressed', 'angry', 'nervous', 'awful', 'trapped', 'pathetic', 'sad', 'rejected', 'inadequate', 'petrified', 'embarrassed', 'frustrated', 'ashamed', 'disgusted', and 'terrified'. On occasion positive emotions were expressed, such as feeling 'hopeful', 'happy', 'great' and 'determined'. These were usually in relation to recovery and having a good day and such messages can give others hope. Nevertheless, most expressions of emotion were negative;
"I am just so confused, hurt, scared and sad!"
Members also frequently commented on their appearance; "I am just hating my body right now and feel urgh". On occasion members posted about their feelings towards treatment; "I want to get help but I feel embarrassed," and how difficult they found it:
"My nutritionist keeps telling me what to do and I say I'm going to do it but I don't. It is SO hard and I feel so alone."
Members also felt 'scared', 'terrified' and 'guilty' about eating food. Sometimes members vented their frustrations or anger about the disorder and not being able to recover, often remarking at the end of their posting that just putting their feelings into words and posting on a site with sympathetic listeners helped them feel much better. Members also commented how they liked the site because they felt able to express their feelings without being judged:
"It does feel good to write it down somewhere where I most likely won't be judged too harshly though."
Miscellaneous
Very few messages contained topics which were miscellaneous and could not be classed as any of the above categories. This suggests that the website was just used as a place where sufferers of anorexia could talk to similar people, share their experiences and discuss treatment and methods of recovery and coping, with few instances of people talking about unrelated topics.
DISCUSSION
This study aimed to identify the nature and type of social support which took place within a computer-mediated support group for individuals living with anorexia. From our results, it appeared to be the case that the primary function of this group was the encouragement of others when battling anorexia and praising individuals for coping well, along with the provision of informational support notably in terms of diagnosis and treatment, and sharing personal experiences and suggestions. The results are in line with previous research which has found information support to be one of the most commonly used categories on discussion forums (Coulson, 2005; Klemm et al. 1998; Braithwaite et al. 1999), as well as encouragement and personal experience (Winzelberg, 1997; White & Dorman, 2000).
The content of the postings varied considerably but a number of important themes did emerge. These involved: a) coping with external pressures from family, b) recommendations for psychological treatment and reflections on the benefits members had received from such treatment, c) sticking to a meal plan and eating regularly and d) diagnostic criteria and symptoms. Winzelberg (1997) also found that coping with external pressures from family and recommendations for psychological treatment were present in a number of messages posted on an eating disorders bulletin board. Furthermore, many members mentioned how family members did not understand and they felt they had no one to talk to and no support. This finding suggests that the computer-mediated support group provides an opportunity for individuals to gain reassurance and support from others facing the same problem, thus accounting for the majority of messages containing instances of encouragement and esteem support. Those individual's who are not receiving social support from family members, have the opportunity to gain support at a time convenient to them by communicating online with like-minded individuals. In addition, the large number of messages containing recommendations for psychological treatment indicates that members exchange information regarding treatment centres they have been to, which ones were successful and how specialists such as nutritionists, therapists or psychologists can help them. Individuals suffering from eating disorders now have an additional means of obtaining information relating to their eating disorder and are inspired and encouraged by reading about other members own experiences. Furthermore, self-disclosure seems to be particularly common among individuals with eating disorders (Winzelberg, 1997).
Although emotional expression was less evident than encouragement, and information support, there nevertheless appeared to be many occasions where members expressed their emotions and frustrations. Furthermore, many members commented how being able to vent their feelings really helped, with some messages over 1,000 words long, thus suggesting that the opportunity to express through writing their feelings of grief, frustration and anger before an understanding and compassionate network of like-minded individuals provides great support (Yager, 2001). In addition, many private, shy or reserved individuals who may feel embarrassed or inhibited to disclose personal information and discuss emotions in face-to-face groups have the opportunity to do so on computer-mediated support groups (Winzelberg, 1997). There were also a relatively high number of messages containing poetry and quotes. The findings suggest that it is an avenue that is popular with members as it allows them to express themselves via quotes from people they admire or identify with. These quotes are inspirational to others and encourage them to keep fighting anorexia. Personal opinion allowed individuals to express their views when responding to previous posts and members were not afraid to disagree with others. This category was also popular in previous research (White & Dorman, 2000) thus suggesting that individuals can benefit from expressing their own opinions and reading others opinions. Network support is a relatively new concept and allowed the researcher to assess support that was given to new members joining the site. Members with longer periods of recovery also served as role models and offered suggestions for coping and welcomed new members. New members were informed that they would receive help and support. Members also appeared to form bonds with others often leaving email addresses to allow further communication.
The computer-mediated support group also allows 'lurkers' to read messages and learn about others in similar situations. The majority of members posted only 1 or 2 messages and the small percentage of regular active contributors appears to be characteristic of computer-mediated support groups in general (Winzelberg, 1997; Brennan, 1996; Hsiung, 2000). However, it is not possible to determine the extent to which those reading the messages found them helpful (either 'posters' or 'lurkers'). Although the number of replies in a thread and the context of messages suggests that individuals do pay particular attention to the replies of others and may judge them to be credible sources of information, future studies need to assess the impact of information to the recipients. Whether lurkers gain some intrinsic benefit from reading but not posting is also a question for future research (White & Dorman, 2001).
Many messages posted offered highly factual information about anorexia, notably the diagnosis criteria and symptoms. Such discussions occurred frequently and therefore there is a need for assessment of the quality of information provided by members, particularly since medical information available on Internet discussion groups may come from non-professionals and may be unconventional and based on limited evidence and/or inappropriate (Culver, Gerr & Frumkin, 1997). Although there is research to suggest that the majority of inaccurate information posted on computer-mediated support groups is corrected by other members (Esquivel, Meric-Bernstam & Bernstam, 2006), future research needs to assess the reliability of information posted on an eating disorders discussion forum. Due to the serious nature of anorexia it is important that computer-mediated support groups do have a moderator to control the flow of information and prevent inappropriate or dangerous information being posted which could possibly fuel the disorder.
Limitations of the present study
There are a number of potential limitations which must be taken into consideration. It is unclear as to whether members found the messages supportive and the intended manner of the messages may not be consistent with the category in which it was coded. However, each message was read a number of times and great care was taken in reading the sequence of messages to gain an in-depth understanding of the context of the message and the posted responses. Furthermore, the high inter-rater reliability adds strength to the coding of the messages and the validity of the study. Also, the messages analysed spanned a 17 day period in May and June and were taken from a single computer-mediated support group. It is unknown whether the observation is typical at other times during the year or of other eating disorder support groups. The content of these messages may not be representative of other groups at other times. This study only looked at the anorexia discussion forum. The website also had discussion forums for 'bulimia', 'overeating', 'males with eating disorders' among others, and so future research needs to look at other types of eating disorder discussion forums to assess how they are used to provide support. Since participants were not contacted, no information was available regarding participants perceptions of the group and of subsequent attitude and behaviour change. Other possible research areas may want to consider reasons for seeking support online, the differences between males and females with eating disorders in the frequency of use of computer-mediated support groups, and the types of support that they seek. Studies should also evaluate eating disorder support groups under controlled experimental conditions so that health outcomes of individuals randomly assigned to wait list control groups, face-to-face groups and computer-mediated support groups can be measured.
Computer-mediated support groups may be a particularly useful tool to aid recovery for individuals with eating disorders because of the anonymity it provides. Individuals with anorexia are particularly worried about their physical appearance and negatively evaluate themselves (Abraham & Llewellyn-Jones, 2001). Physical appearance and presence in face-to-face eating disorder support groups may lead to evaluation anxieties, reducing support group participation (Walstrom, 2000). The computer-mediated eating disorders discussion forum allows the opportunity to talk to others without the fear and anxiety that others will be judging their appearance, while obtaining comfort from knowing that they are not alone in their difficulties and be encouraged in their efforts to overcome them. However, they can perpetuate eating disorders if individuals are allowed to exchange diet tips, advice on self induced vomiting, taking laxatives, or if members are seen to be in competition with each other to be the thinnest or most ill (Shafran, 2002). Furthermore, 'pro anorexia' websites advocate having anorexia. They have dieting tips, idealised body images and 'inspirational quotes (Shafran, 2002). The web site used in the present study clearly stated that such information was not to be discussed and that any comments relating to this would be removed. Members were reminded that the site was a place to aid recovery of eating disorders. However, clinicians should consider the possible negative impact of these 'pro anorexia' sites on patients who are frequent users of the internet (Shafran, 2002). Patients should be given specific website addresses and be briefed on how to use the site, to prevent them from searching for support groups which may lead them to access inappropriate sites.
Nevertheless, regulated web sites which control the information posted and require registration can provide an extremely useful avenue for individuals suffering from anorexia to seek support from others suffering from the same disorder and to vent their feelings and frustrations, and to seek information. Furthermore, considering the high rate of relapse, it is important that patients are provided with ongoing support when they leave treatment centres or therapy (Walstrom, 2000). Computer-mediated support groups may be a very cost effective method to potentially reach a large number of individuals suffering from anorexia and from the results of our study, may be an important venue through which individuals may mutually support each other and exchange important information and advice.
REFERENCES
Abraham, S., & Llewellyn-Jones, D. (2001). Eating disorders: The facts. Oxford: Oxford University Press.
Alemi, F., Mosavel, M., Stephens, R.C., Ghadiri, A., Krishnaswamy, J., & Thakkar, H. (1996). Electronic self-help and support groups. Medical Care, 34, S32–S44.
Baskind-White, M., & White, W.C. (2000). Bulimia/Anorexia: The binge/purge cycle and self-starvation. New York: W.W. Norton & Company Inc.
Brennan, P.F. (1996). The future of clinical communication in an electronic environment. Holistic Nursing Practice, 11, 97–104.
Brown, J.B. Winzelberg, A.J., Abascal, L.B., & Taylor, B. (2004). An evaluation of an Internet-delivered eating disorder prevention program for adolescents and their parents. Journal of Adolescent Health, 35, 290–296.
Buchanan, H., & Coulson, N.S. (2007). Accessing dental anxiety online support groups: An exploratory qualitative study of motives and experiences. Patient Education & Counseling, 66(3), 263-269.
Carlbring, P., Nilsson-Irhfelt, E., Waara, J., Kollenstam, C., Burhman, M., Kaldo, V., Soderberg, M., Ekselius, L., & Andersson, G. (2005). Treatment of panic disorder: Live therapy vs. self-help via the internet. Behaviour Research and Therapy, 43, 1321–1333.
Cohen, S. (2004). Social relationships and health. American Psychologist, 59, 676–684.
Coulson, N.S. (2005). Receiving social support online: an analysis of a computer-mediated support group for individuals living with irritable bowel syndrome. CyberPsychology & Behaviour, 8, 580–584.
Coulson, N.S., Aubeeluck, A., & Buchanan, H. (2007). Social support in cyberspace: A content analysis of communication within a Huntington's Disease online support group. Patient Education & Counseling, 68(2), 173-178.
Crow, S., Praus, B., & Thuras, P. (1999). Mortality from eating disorders: A 5 to 10 year record linkage study. International Journal of Eating Disorders, 26, 97–101.
Culver, J.D., Gerr, F., & Frumkin, H. (1997). Medical Information on the Internet: A study of an electronic bulletin board. Journal of General Internal Medicine, 12, 466–470.
Dubrovsky, V.J., Kiesler, S., & Sethna, B.N. (1991). The equalisation phenomenon: Status effects in computer-mediated and face-to-face decision-making groups. Human-Computer Interaction, 6, 119–146.
Esquivel, A., Meric-Bernstam, F., & Bernstam, E.V. (2006). Accuracy and self-correction of information received from an internet breast cancer list: content analysis. British Medical Journal, 332, 939–942.
Eysenbach, G. & Till, J.E. (2001). Ethical issues in qualitative research on internet communities. British Medical Journal, 323, 1103-1105.
Finn, J., & Lavitt, M. (1994). Computer-based self-help/mutual aid groups for sexual abuse survivors. Social Work with Groups, 17, 21–46.
Finn, J. (1995). Computer-based self-help groups: A new resource to supplement support groups. Social Work with Groups, 18, 109–117.
Goldstein, D.J. (2005). The internet and eating disorders. In D. Goldstein (Ed.), The management of eating disorders and obesity. Humana Press.
Han, H-R., & Belcher, A. (2001). Computer-mediated support group use among parents of children with cancer: An exploratory study. Computers in Nursing, 19, 27–33.
Hoybye, M.T., Johansen, C., & Tjornhoj-Thomsen, T. (2005). Online interaction: Effects of storytelling in an internet breast cancer support group. Psycho-oncology, 14, 211–220.
Hsiung, R.C. (2000). The best of both worlds: An online self-help group hosted by a mental health professional. Cyberpsychology & Behaviour, 3, 935–950.
Johnson, K.B., Ravert, R.D., & Everton, A. (2001). Hopkins teen central: Assessment of an Internet-based support system for children with cystic fibrosis. Pediatrics, 107, 24–31.
Kelleher, D. (1994). Self-help groups and their relationship to medicine. In J. Gabe, D. Kelleher & G. Williams (Eds.), Challenging medicine (pp.104-117). London:Routledge.
Klemm, P., Reppert, K. & Visich, L. (1998). A non-traditional cancer support group: The Internet. Computers in Nursing, 16, 31–36.
Lieberman, M.A., & Goldstein, B.A. (2005). Self-help on-line: An outcome evaluation of breast cancer bulletin boards. Journal of Health Psychology, 10, 855–862.
Loader, B.D., Muncer, S.,Burrows, R., Pleace, N., & Nettleton, S. (2002). Medicine on the line? Computer-mediated social support and advice for people with diabetes. International Journal of Social Welfare, 11, 53–65.
Shafran, R. (2002). Eating disorders and the Internet. In C. Fairburn & K. Brownell (Eds.), Eating disorders and obesity: A comprehensive handbook. London: The Guildford Press.
Sharf, B.F. (1999). Beyond netiquette: The ethics of doing naturalistic discourse research on the internet. In S. Jones (Ed.), Doing internet research: Critical issues and methods for examining the net. London: Sage Publications.
Sullivan, C.F. (2003). Gendered cybersupport: A thematic analysis of two online cancer support groups. Journal of Health Psychology, 8, 83–103.
Trojan, A. (1989). Benefits of self-help groups: A survey of 232 members from 65 disease-related groups. Social Science & Medicine, 29, 225–232.
UNC Health Care (n.d.). Obesity, anorexia share similar causes; are influenced by same forces. Retrieved August 16, 2006, from http://www.unchealthcare.org/site/healthpatientcare...
Walstrom, M.K. (2000). "You know, Who's the Thinnest?": Combating surveillance and creating safety in coping with eating disorders online. CyberPsychology & Behaviour, 3, 761–783.
Weinberg, N., Schmale, J.D., Uken, J., & Wessel, K. (1995). Computer-mediated support groups. Social Work with Groups, 17, 43–54.
White, M.H., & Dorman, S.M. (2000). Online support for caregivers: Analysis of an Internet Alzheimer mailgroup. Computers in Nursing, 18, 168–179.
White, M. & Dorman, S.M. (2001). Receiving social support online: Implications for health education. Health Education Research, 16, 693-707.
Winzelberg, A. (1997). The analysis of an electronic support group for individuals with eating disorders. Computers in Human Behaviour, 13, 393-407.
Winzelberg, A.J., Eppstein, D., Eldredge, K.L., Wilfley, D., Dasmahapatra, R., Dev, P. & Taylor, C.B. (2000). Effectiveness of an Internet-based program for reducing risk factors for eating disorders. Journal of Consulting and Clinical Psychology, 68, 346–350.
Yager ,J. (2001). E-mail as a therapeutic adjunct in the outpatient treatment of anorexia nervosa: Illustrative case material and discussion of the issues. International Journal of Eating Disorders, 29, 125–138.
Correspondence to:
Dr Neil S. Coulson
Institute of Work, Health & Organisations
University of Nottingham
Jubilee Campus
International House, Wollaton Road
Nottingham NG8 1BB
Email: neil.coulson(at)nottingham.ac.uk
Copyright (c) 2009 Cyberpsychology: Journal of Psychosocial Research on Cyberspace
This work is licensed under a
Creative Commons Attribution-NonCommercial-NoDerivatives 4.0 International License
.